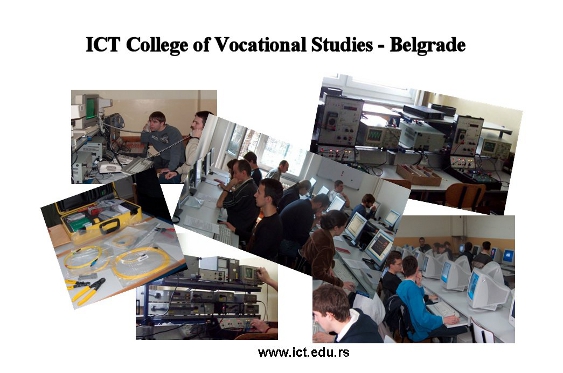 ICT College of Voca­tion­al Studies is a state school, estab­lish­ed on the foundations of decennial education work of the College of Postal Services and Tele­communications. Today, through four under­graduate vocational study programmes and two specialist vocational study programmes, the School covers various fields and disciplines, from postal and economic, via telecommunications and internet technologies, to state-of-the-art network technologies and electronic business.
The contents of teaching syllabi are defined in accordance with the School's commitment to offer high-quality education and effective practical training for vocational work. The essence of vocational studies is the orientation on laboratory work and practical training of students through the work in real working environments, as a new aspect of higher education in our national education system.
In order to improve the quality of instruction and to use the up-to-date laboratory equipment, teaching staff is continually educated in the appropriate fields. Majority of our lecturers and associates got their academic degrees at the esteemed higher education institutions in Serbia and abroad.
Through constant self-evaluation process and consistent application of European Credit Transfer System (ECTS) we meet the requirements of the Bologna Declaration in order to provide our students with competences for competitive participation at the world knowledge market. The representatives of our students are actively involved in the activities of the School's expert bodies on all issues concerning high-quality and functional studying.
The strategy of the School's future development is directed towards the recognition of the advantages our students and the School can offer at the knowledge market and at the education market, respectively.
Contact
Aleksandar Sugaris [
email
]
ICT College of Vocational studies
11000 Belgrade, Serbia
Zdravka Celara 16
www.ict.edu.rs